Event: Fair Oaks/ Orange Grove Community Walking Tour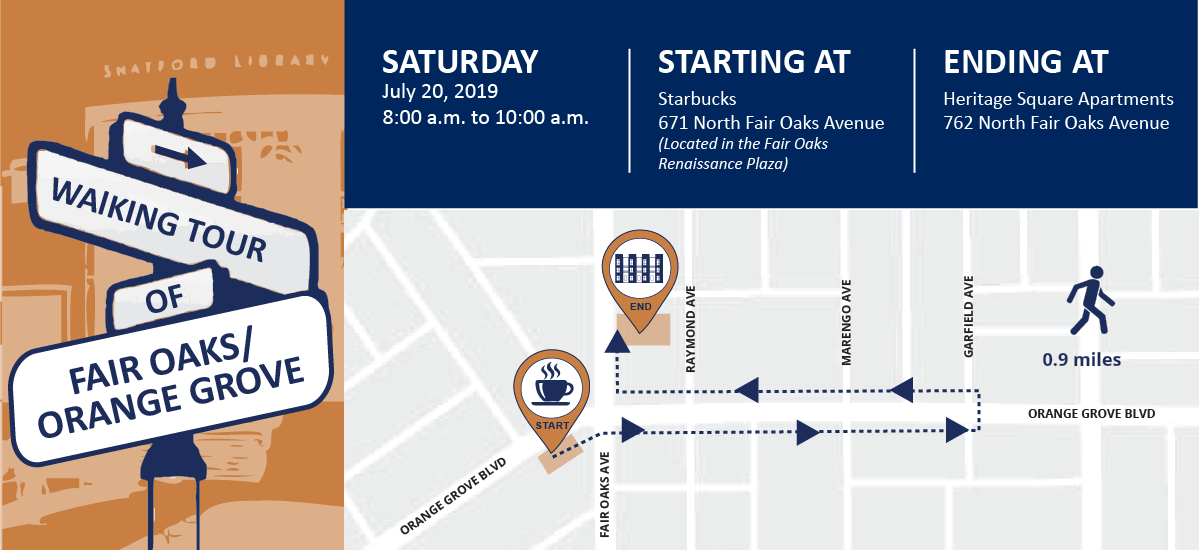 Please join us for a community walking tour of Fair Oaks/ Orange Grove hosted by the Planning & Community Development Division. Through the Our Pasadena Program, the City of Pasadena is updating the Fair Oaks/ Orange Grove Specific Plan and inviting community members to get to know the Specific Plan Area by foot. The updated Specific Plan will guide building types, intensity, form, land use, and design, all of which we will explore from the pedestrian viewpoint on the community walking tour.

We will meet at 8:00am at Starbucks (located in the Fair Oaks Renaissance Plaza) for an overview of the corridor and tour. We will walk east and loop at Garfield Avenue, then continue north on Fair Oaks Avenue and end at Heritage Square by 9:00am. At the end of tour, there will be an interactive exercise to gather your ideas for the corridor and brainstorm future potential for the Fair Oaks/ Orange Grove Specific Plan. Please remember to bring water, comfortable shoes, and your great ideas!
Please RSVP by emailing ourpasadena@cityofpasadena.net.
Walking Tour Flyer- English
Walking Tour Flyer- Spanish
ADA: In compliance with the Americans with Disabilities Act (ADA) of 1990, listening assistive devices are available with a 24-hour advance notice. Please call (626) 744-4009 or (626) 744-4371 (TDD) to request use of a listening device. Language translation services may be requested with a 48-hour advance notice by calling (626) 744-4009.
Date: Sat, Jul 20th 2019, 8:00am - 10:00am
Location: Starbucks- 671 North Fair Oaks Avenue (Located in the Fair Oaks Renaissance Plaza)