Event: Central District Specific Plan- Round 2 Workshop (Session 1)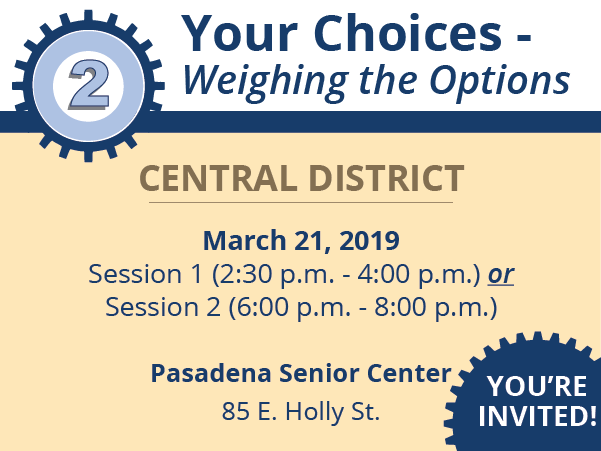 As part of the second round of community workshops for Our Pasadena – Putting the Plan in Motion, the Planning & Community Development Department will be hosting an open-house style workshop where stakeholders can learn about and provide feedback on preliminary concepts for the Central District Specific Plan.
Due to high turnout from the previous workshop, two sessions will be offered throughout the day for this round, both featuring the same information and format. Each session will include an introductory presentation followed by a variety of stations where participants can provide input on topics such as land use, building heights, sidewalks, open space, and the overall vision of various neighborhoods within the Central District.
Feedback received will help refine these ideas and inform the creation of an updated Central District Specific Plan.
You can view the flyer here or en español aqui.
ADA: In compliance with the Americans with Disabilities Act (ADA) of 1990, listening assistive devices are available with a 24-hour advance notice. Please call (626) 744-4009 or (626) 744-4371 (TDD) to request use of a listening device. Language translation services may be requested with 48-hour advance notice by calling (626) 744-4009.
Date: Thu, Mar 21st 2019, 2:30pm - 4:00pm
Location: Pasadena Senior Center 85 E. Holly Street