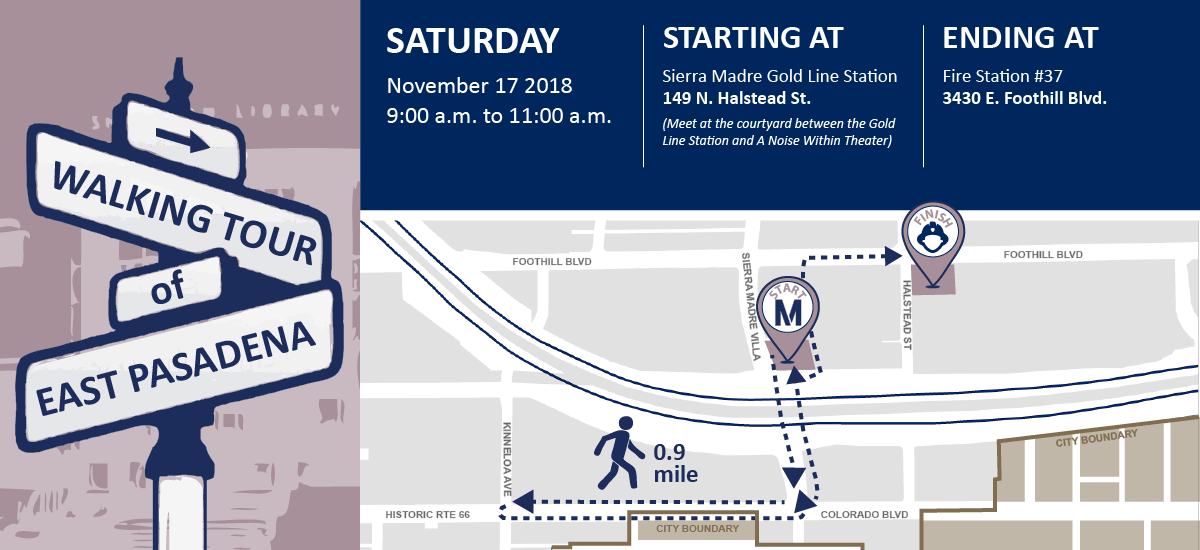 Please join us for a community walking tour of East Pasadena, hosted by Council District 4 Councilmember Masuda and the Planning & Community Development Division. Through the Our Pasadena Program, the City of Pasadena is updating the East Pasadena Specific Plan and inviting community members to get to know the Specific Plan Area by foot. The updated Specific Plan will guide building types, intensity, form, land use, and design, all of which we will explore from the pedestrian viewpoint on the community walking tour.

We will meet at 9:00 a.m. in the courtyard between the Sierra Madre Gold Line Station and the A Noise Within Theater for an overview of the corridor and tour. We will walk down south to Colorado Boulevard, loop at Kinneloa Avenue and return to the courtyard at 10:30 a.m. for an interactive exercise to gather your ideas for the corridor and brainstorm future potential for East Pasadena. Remember to bring a hat, water, and comfortable walking shoes!
Please RSVP by emailing ourpasadena@cityofpasadena.net.